Agents, why would you choose RE/MAX Realty Advantage?
Two Things:
1- You want your clients to recommend you to everyone they know.
2- You want to make more money.
Are you ready to learn from the best in the business?
Our award-winning Broker, Molly Wahrheit, has been among the top 10 producing agents in San Antonio for years and she is ready to share her real estate secrets with YOU. Molly takes a whole new approach to building a real estate business.
She shares her strategy, knowledge and experience freely with at least two development sessions per week and she will help you create a business strategy and will consult with you on a quarterly basis, keeping things on track. You'll learn how to become a powerful Agent, blowing your competition out of the water, while surpassing client expectations. Her Open Door Policy ensures that you have access to the coaching you need, overcoming any obstacles you may encounter.
Because here's the thing- Training is WORTHLESS if it's not sandwiched between consultation on the front-end and action with coaching and accountability on the back-end.
Ready to finally make the money in real estate you've always dreamed of? Call 210-495-5252 and ask for Molly.
We're building a team of like-minded Agents who put the customer first and who want to take their real estate activities to the next level.
Some brokerages like to have lots of Agents that produce a little - a Brokerage-Centric model
We would rather have fewer Agents that produce A LOT - an Agent-Centric model.
Read what some of our Agents have to say about us: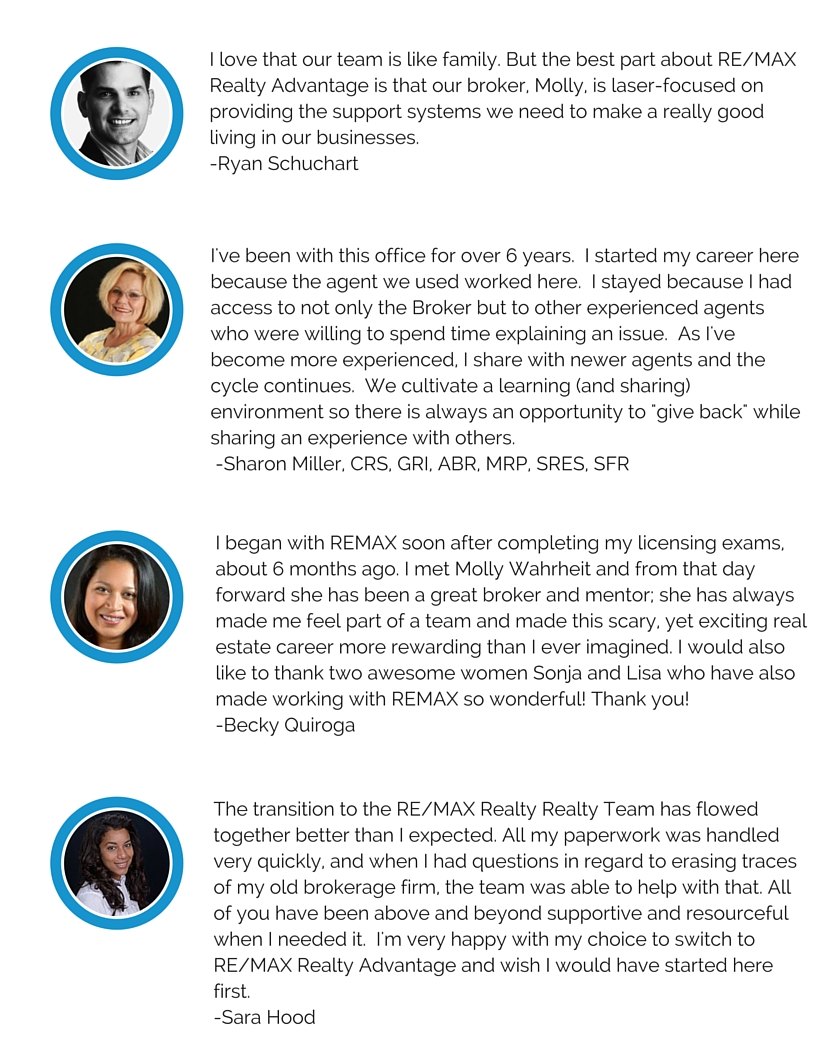 Click here to learn about what the RE/MAX brand can do for YOU.
National Advertising Campaign:
The only franchise with a national advertising campaign, RE/MAX is the most consumer-recognized real estate company in the US and worldwide.
It's one of the reasons that no company does more business that RE/MAX.

Ready to pursue your Real Estate License?
Click the link below for details.